Become a Partner of eService
At eService, our top priorities are modern technological solutions and secure payment processing. We are constantly developing our offer, including additional benefits for entrepreneurs. One such benefit is our partner program, and we invite you to join it.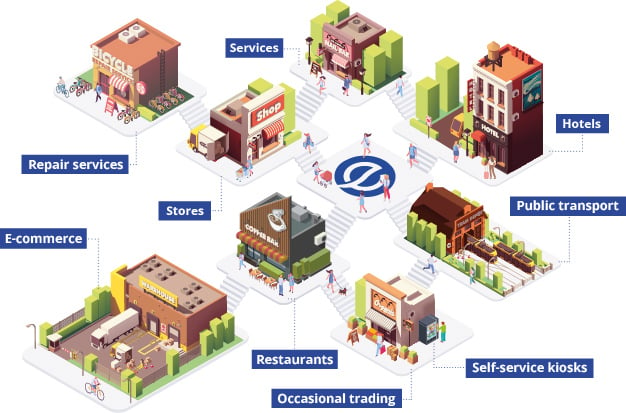 Why should you cooperate with eService?
We provide dedicated support from a sales representative
We offer tailored solutions for every industry
We provide a wide range of modern and secure services and payment solutions
We guarantee safety and the highest quality of services
We minimize unnecessary formalities
We offer flexible forms of cooperation
We understand the importance of implementing innovations in the payment market and support this process
The growth of our partners contributes to the development of eService, ensuring mutual benefits.
Refer Your Customers to Us
For each successful recommendation that results in a contract you will receive remuneration from us.
The partnership
Sign contracts with your customers for cashless payment services and get well rewarded for each one of them.
Referring our services pays off!All you need to do is send us an application of a potential customer and we will take care of the contract-related formalities.
We offer flexible cooperation and can adjust to the profile of your partner's activity.
Integration with cash systems
ISV and ISO partner programs support the adaptation of modern payment systems
Integration with cash systems
Efficient adaptation of new technologies for your terminals and mobile devices. Ensure a comprehensive and modern service at a global level.
eCommerce
Modern solutions dedicated to online transaction services, including the use of virtual cards.
eCommerce
Our offer includes integration with API, Direct API, iFrame BLIK, mobile SDK libraries, and many others. Contact us to learn more about our full range of services!
mCommerce
Fast and secure mobile solutions for you and your customers, and free of hidden costs. We offer support for Apple and Android systems.
mCommerce
Our solutions meet EMV and PCI standards. Additionally, you can download reports in Excel or CSV format for easy access to transaction information.
POS terminals
Choose from a wide range of Verifone, Ingenico, and PAX devices.
POS terminals
Choose from our modern and user-friendly PIN pads and stationary/mobile terminals. Our available variants offer touch screens and comply with IP54 and IP10 standards.
Self-service machines
Terminals, vending machines, fuel machines, which are perfect for self-service points such as grocery stores, car washes, petrol stations, or electric vehicle charging.
Self-service machines
Our payment solutions guarantee cost savings and safety by eliminating the need for cash transportation and accumulation of cash in registers. Enjoy the convenience of not handling change!
Smart City
Fast and secure mobile payment systems, online payment systems for the public sector, and innovative payments in urban transport and offices. We also provide payment terminals for courts and offices, as well as self-service terminals.
Smart City
We offer an online payment system specifically designed for the public sector, as well as innovative payment solutions for urban transport and offices.